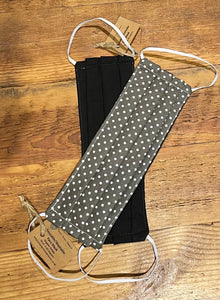 Hand-made, Reusable, Washable. Made from 3 layers of 100% organic cotton face mask and elastic.  Double sided bee or geometric

Available in 2 sizes. Large will fit most adults, but Medium may be better if you are a teenager or  have a thin face.
They are not clinical masks, but they will stop you from touching your face and nose while you are out and about. Wash after use.
Wash before using at 40/60 degrees
Remove elastic band before composting