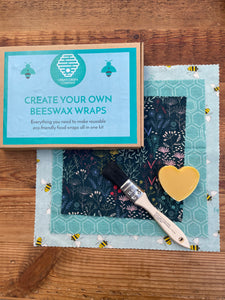 Fun DIY kit for Bees Wax Wraps. Make your own beeswax wraps at home.
Perfect gift for someone who is looking to cut plastic in their lives and have fun making wax wraps in the process. 
Kit Contains:
- 3 Organic Cotton square 30cm x 30cm, 25cm x 25cm and 20cm20cm
- Parchment paper
- Wooden brush
- Wax Block (mix of Beeswax, pine resin and Jojoba Oil)
- Instructions
You will also need a grater and baking tray
Have Fun!!!